John Spencer are now the newest member of Make it British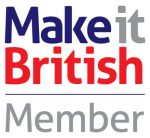 John Spencer are very excited to announce that we are now the newest member of Make it British!
We are proud that we create and weave our fabrics in our own Lancashire cotton mill and that all our products can genuinely be labelled as 'Made in Britain'. We are committed to preserving traditional crafts and skills in the unique industrial landscape in which we live.
What is Make it British?
Make it British are the go to source of information on all different British-made brands and UK manufacturing. They are passionate about British craftsmanship and have a vast array of fashion, home, health and beauty brands all wonderfully British within their huge directory, making it even easier for people to find the products they need. Ultimately, they believe that a product's provenance is of the utmost importance.
Visit us at Meet the Manufacturer 2018
If you are passionate about UK manufacturing and making truly British-made products, then we will be exhibiting alongside other British manufacturers at Make it British's exhibition Meet the Manufacturer 2018, located at the Old Truman Brewery, London on Wednesday 23rd and Thursday 24th May 2018.
To register free and find out more information about this exclusive Make it British event, simply click here.
---
---